Meet Dr. Matt Nannie
A Passion for Prevention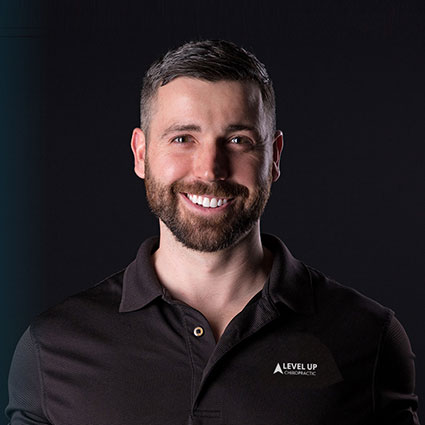 Dr. Matt's first experience with chiropractic was after a high school football injury. A multi-sport athlete his whole life, his body was always under a lot of physical stress. He was thrilled with the results of chiropractic care—but that's not why he decided to become a chiropractor.
As an undergraduate, he was pre-med with the intention of becoming a nurse anesthetist. He had the opportunity to observe surgeries to learn more about the process and how each professional contributed. After observing, he was disheartened and knew that his true passion was to help people prevent the outcome he had just witnessed.
His sister was working for a chiropractor at the time, and she invited Dr. Matt to come in and observe. He noticed that the chiropractor was educating patients about wellness and ways to live a healthier life, naturally. He also saw that patients were excited to be there. That's when he decided on chiropractic as a career.
Unlocking the Highest Potential
After receiving his Doctor of Chiropractic from Palmer College of Chiropractic in Davenport, IA in 2015, Dr. Matt worked as an associate with his chiropractic mentor in Illinois for six years. Bringing his experience and enthusiasm for helping others reach their highest potential, Dr. Matt opened Level Up Chiropractic in 2022. He practices what he preaches, staying active, stretching, meditating and eating nourishing foods so that he can show others what true health looks like—and help them achieve their own version of that.
EXPLORE OUR SERVICES »

Certifications and Special Experience
A Gonstead practitioner, Dr. Matt also offers additional skills and expertise, including:
Eureka College football team chiropractor
Gonstead Clinical Study Society
Graston certified
Member, International Chiropractic Pediatric Association
Peoria rugby team chiropractor
Webster certified
Practiced abroad in India with a group of Colleagues
And he's a dad!
Days Off
When he's not at work, Dr. Matt enjoys exploring nature with his wife and kids. They enjoy hiking, biking, boating, yoga and all the things that tie into a family wellness lifestyle.
Get Started with Care
Contact our team today to book your first appointment with Dr. Matt. You deserve to live a vibrant, healthy life. Visit us to learn more about how chiropractic may help you get there!


Dr. Matt Nannie | (682) 706-2058