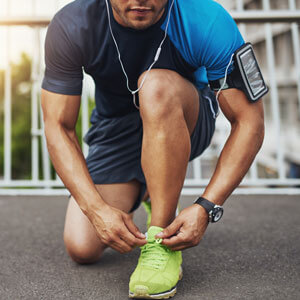 Sports Chiropractic in Forney
Understanding Your Needs
A lifelong athlete and former team chiropractor for the Eureka College football team, as well as the Peoria rugby team, Dr. Matt understands that the needs of athletes are not just physical. Often after an injury, the recommendation is to rest or immobilize the area for several weeks. Being unable to participate in their sport due to injury takes a huge emotional toll on people who thrive by being active. Finding ways to allow athletes to continue to train while they heal mitigates the emotional aspect of the injury.
NEW PATIENTS »

A Cascade of Events
The dedication and motivation of athletes to push past discomfort is a double-edged sword—it can help you achieve your goals rather than giving up just because something is sore, but it can also cause you to ignore warning signs from your body. When that happens, your body may begin to compensate for something relatively minor, leading to a cascade of events that eventually results in an injury you can't just "push past."
At Level Up Chiropractic, we use in-depth Gonstead analysis techniques to locate and address the root cause of the injury. Dr. Matt will explain what triggered the injury, and the steps it took to get to this point.
Keeping You Moving
Dr. Matt will work with you to design a treatment plan that will possibly allow you to continue to train, while at the same time allowing your body to heal. He'll help you with rehab exercises as well as adjustments and soft tissue work, to keep you from being sidelined completely.
He'll also help you correct any exercises or movements that may have contributed to the underlying problem, to reduce your risk of re-injury in the future. If something is beyond natural repair or needs additional help, he will make the appropriate referral. Our goal is not just to get you back to where you were, but to get you to a whole new level of health and performance so you can enjoy being active for life.
Get Started with Care
Don't wait until you've been injured! Chiropractic care can help you perform better and prevent injuries from occurring. Contact us today to schedule.

Sports Chiropractic Forney, Heath TX | (682) 706-2058